The sunscreen you've been looking for your whole life.
You can say I'm literally living on the equator (Singapore is 1.3521° N).
Because it's summer all year round, I'm always on the look out for a great sunscreen. The tropical climate basically means it's either 'very hot' or 'raining'.
So my sunscreen should definitely have a high SPF and it should be water-resistant. Now that's not hard to find. But that's just hygiene. It's not enough.
For me, the perfect sunscreen should have:
High SPF (50+ preferably)
Water resistant
Won't make me break out (non-comedogenic)
Won't make my skin greasy
Won't be sticky to touch (I hate that hot sweaty feeling sunscreens give)
Fragrance-free
Paraben-free
Gentle enough for sensitive skin
Not leave a white film
It is a long list (my dream products can have anything I chose), so you can imagine my sheer delight when I discovered that La Roche Posay Anthelios has all this!!!
So of course I bought and tried it immediately. I was literally bursting with excitement…. And it did well! Ticked every single box. Yay!!!!
My skin loves this stuff. It's light, non-greasy, doesn't leave a shine and not a single pimple was born because if it. It stays put in the rain and pool too. So double yay!!
There is however, one tiny problem.
It doesn't go on as smoothly as I'd like it too. And it leaves behind a white powder in certain parts – like my eyebrows! So close to being perfect…damn!
This is however, not a big deal considering it's otherwise an awesome product. And I can totally live with that. But if that's going to be an issue for you, then maybe you will prefer Shiseido's Ultimate Sun Protection Lotion Wetforce. Take a look at my review to get to know it some more.
MY VERDICT: This sunscreen scores very high. I would say it's 'almost perfect'. It's totally a no-brainer for people with oily, acne-prone or sensitive skin – just buy it with your eyes closed I say!
WHY DON'T YOU ALSO FOLLOW ME ON: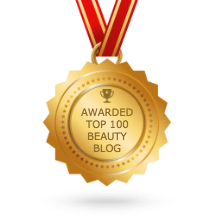 DELARA
has spent over 10 years making beauty commercials for many renowned beauty brands (while gleefully trying out all those awesome products on herself). When she is not busy punching the keyboard, she is either in front of a mirror, lounging by the pool or changing her baby's dirty diapers – all while chugging down cups and cups of Earl Grey tea.