Beauty sleep in a bottle.
I used my first bottle of Advanced Night Recovery when I was 21. My boyfriend (now husband) bought it for me during one of his business trips. Yes, my husband has been gifting me (expensive) skincare products for over 14 years now 😉
Anyways, to cut a long story short, it seemed like a waste of money back then. It did nothing to my skin. In fact, I had a tiny breakout or two, courtesy this worshipped product. So I just ended up giving away half of the bottle to my mom.
Now cut to 13 years later. I decided to give it another go. My skin was no longer as greasy as it used to be and maybe…just maybe it would work this time around.
I patted it on at night, followed it up with my favourite moisturizer and passed out. The texture looked a bit thick but it sank right in to my skin. Unlike other serums that tend to have a 'rolly' texture that just sits on your skin, this one got absorbed in a jiffy, leaving not a trace of stickiness. It's almost as if I hadn't applied anything on. My combination skin liked that a lot!
I woke up the next morning and checked out my skin in the mirror. I don't know why I always expect an overnight miracle. Never seen one, but still believe it's out there! The result: My skin looked just the way it did the previous morning.
I used it diligently every day for 2 weeks (that's the minimum amount of time it actually takes for a product to show it's effect). And I realized that my skin looked well rested even though I was getting only 5 hours of sleep (blame the babies). Hmmm…
Another 2 weeks later, I started seeing more changes. My skin was a lot more hydrated, felt silkier and the size of my pores were much smaller.
The more I use this stuff, the more I seem to like it. My skin looks a lot healthier, plumper and more refreshed – even after a late night. It doesn't have that expected dullness and blotchiness that comes with having stayed up till the wee hours.
MY VERDICT: Its a great serum to boost your skin's hydration, even out your skin and brighten your complexion. Would I buy it again? Yes (I already did)!
WHY DON'T YOU ALSO FOLLOW ME ON: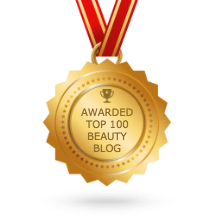 DELARA
has spent over 10 years making beauty commercials for many renowned beauty brands (while gleefully trying out all those awesome products on herself). When she is not busy punching the keyboard, she is either in front of a mirror, lounging by the pool or changing her baby's dirty diapers – all while chugging down cups and cups of Earl Grey tea.